---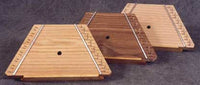 The lap harp is an acoustic, handcrafted folk instrument which can be enjoyed by young students and senior citizens as well as everyone in between. Also known as a plucked psaltery, this trapezoidal shaped musical instrument provides the player with immediate rewards by producing a heavenly sound. Music cards that slip under the strings make playing the lap harp so easy! Simply follow the upward and downward lines and pluck the strings which lay directly over the notes below.
Standard Harp Models (Little Picker)
Plain lap harp, great for kids. Includes tuning wrench, pick, extra wire, and music cards (12 songs, mostly American standards, including Oh Susanna, In the Good Old Summertime, She'll be Coming Round the Mountain, Amazing Grace, Swanee River, On Top of Old Smoky, You Are My Sunshine)
Purchase additional song card packs here!