---
Cole Clark Guitars
Cole Clark combines classical construction with innovative design and manufacturing techniques to produce a lighter, stronger, unique guitar with a natural amplified sound.

Cole Clark steel string acoustic guitars are the only main stream acoustic to use a Spanish heel or integral neck construction. This means the neck is glued to the face along with the sides and the back so the neck is one piece all the way to the sound hole. On other guitars, the body is made then the neck attached, mostly with a bolt or dove tail join. Due to our method, the sound is unique. Cole Clark also has a carved top and back and uses a ridge system to join the sides to the top and back instead of kerfing.
House of Musical Traditions is proud to be carrying these instruments not simply because we think they're great-sounding instruments, but because their environmental policies meet up with our own in a very "Takoma Park" kind of way.
Here's an excerpt from Cole Clark's "Environmental Statement" : 
"...we used the lessons learnt from guitar makers in North America and Europe and explored our own country, Australia [to find sustainable] tone woods which are sometimes similar and sometimes unique to traditional [endangered] tone woods. As of March 2020, Rosewood counts for just 1% of Cole Clark back and sides and 2% of fretboards. 3% of our fretboards are Ebony, which is also an endangered species. The rest of the timbers used by Cole Clark do not appear on the Red List of endangered species and are sustainable. Once we have run out of our current Rosewood stock, there will be no more, further advancing our sustainability aim. Around 30% of our timber comes through urban recovery, which is to say they've fallen or have been removed by arborists for safety reasons. The rest of our timber comes from sustainable plantations and farms from Victoria, Tasmania and Queensland."
More information about Cole Clark Guitars and sustainability can be found on their website here: coleclarkguitars.com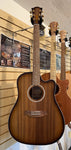 Sale price $ 2,499.99
Regular price
$ 2,999.99
Sale