---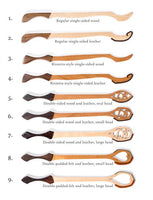 Prices are for a pair of hammers.

A small but vital link between players and instrument, the hardwood hammers we make in our shop are accurately shaped and meticulously finished in book-matched pairs, guaranteeing an even, well-balanced weight and feel. All Dusty Strings hammers are 9" long.

Although everyone eventually develops their own favorites, it's nice to have an "arsenal" of options at your disposal for different moods and playing situations.

How do you choose?

A good starting point is to pair up the length of the striking surfaces with the string spacing of the dulcimer for the most accurate playing. Hammers #1, 2, 5, 6 and 8 have a slightly shorter striking surface that works well with the slightly narrower string spacings.

Striking surface material: More than anything else, the material that actually comes into contact with the strings will determine the overall sound. The choices we offer are hardwood (for a louder, bell-like tone, used in ensemble and outdoor playing situations where you need to be loud), suede leather (for a softer, warmer tone, often used for indoor solo playing - found on #2, 4, 5, 6 & 7), kangaroo leather (for a sound between hardwood and suede leather - found on #8 & 9), or felt (for a very soft, muted tone for quiet practicing, mellow moods or recording - found on - found on #8 & 9).

Weight and stiffness are additional factors that influence hammer performance. In the double-sided hammers, #5, 6 and 8 have a smaller head size, are lighter, and have a narrower, more flexible handle, thus giving a lighter sound. #7 and 9 have a larger head size and a wider, less flexible handle, which transfers more energy to the strings for a generally more powerful sound.

All of this gives you a sense as to why most players end up with a collection of different hammers for different situations and moods. Percussionists typically own many pairs of drumsticks for different sounds and situations. Dulcimer players do too. Just don't put yours in your back pocket!