---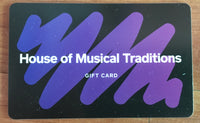 We also sell e-gift cards, in addition to physical gift cards. E-gift cards can be emailed directly to you or your recipient. To purchase an e-gift card, follow this link 
To redeem an e-gift card or physical gift card, please contact us directly with the info and we will manually set up a purchase for you. At this time, gift cards cannot be redeemed directly through our website ordering. Thank you for your support!
Our School of Musical Traditions lessons program also offers e-gift cards, which can be used for their private lessons and group classes. Purchase an SMT e-gift card here.
A gift card never comes in the wrong size, color or tuning! But seriously...buying a musical instrument can be a very personal decision. So, why not give that special someone the ultimate gift: the freedom of choice? We can also mail the gift card directly to your recipient if you like (just enter the different shipping info on your order, along with any gift message you'd like to include in the "special instructions section). Our gift cards do not lose value over time, but make sure your recipient hangs onto it if they're not making a purchase right away. We will need at least the gift card number to honor it.

Your recipient can use a gift card for a mail order purchase if they contact us directly - we will just need the number that appears on the back of the card. At this time, our website is not set up to accept gift cards directly as a purchase method. 

We've listed some popular denominations here, but you can purchase a gift card for any amount that you like. If you don't find the number that you want on this page, simply contact us.