---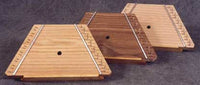 Not all cards will be in stock - use the drop-down menu above to see what's available.
Additional music card sets for Lap Harps, 12 songs each. Cards are placed under the strings as a guide.
See below for list of songs in each set.
IMPORTANT NOTE: The TK O'Brien song cards measure 12 inches at the bottom edge, 4.5 inches at the top, and 8.75 inches on the diagonal. They may not fit some other brands of lap harps, but can still be used as a guide -- they just may not fit under the strings.
1. Celtic

All Through The Night
Ash Grove
Child Grove
Fairy Dance
Farewell
Farewell To Wiskey
John O'Conor
Keel Row
The King Of Love My Shepherd Is
Morepath Rant
Sheebeg And Sheemore
Southwind

2. Children's Favorites

Frere Jaques
Go Tell Aunt Rhody
I'm A Little Teapot
Little Boy Blue
London Bridge
Mary Had A Little Lamb
Pop Goes The Weasel
Ring Around The Rosie
Skip To My Lou
The Farmer In The Dell
The Mulberry Bush
Three Blind Mice

3. Christmas I

Angels From The Realms Of Glory
As Lately We Watched
Bring A Torch, Jeanette, Isabelle
Good King Wenceslas
Hark The Herald Angels Sing
Jolly Old Saint Nicholas
Little Drummer Boy
Still, Still, Still
The Wassail Song
Up On The Housetop
We Three Kings
We Wish You A Merry Christmas

4. Christmas II

Away In A Manger
Deck The Halls
God Rest Ye Merry Gentlemen
It Came Upon A Midnight Clear
Jingle Bells
Joy To The World
O Christmas Tree
O Come All Ye Faithful
Santa Claus Is Coming To Town
Silent Night
Sleigh Ride Song
The First Noel

5. Christmas III

Angels We Have Heard On High
Away In A Manger II
The Bells Of Christmas
Ding Dong, Merrily On High
Go Tell It On The Mountain
Greensleeves
The Holly And The Ivy
I Heard The Bells On Christmas Day
I Wonder As I Wander
The Snow Lay On The Ground
There's A Song In The Air
Toyland

6. Classical

Allegro Moderato (from "Sonatina in G")
Blue Danube Waltz
Bouree (from "The Royal Fireworks")
Can Can
Dance Of The Hours (La Gioconda)
Hornpipe (from "The Water Music")
Hungarian Dance No. 4
Minuet by Bach
Minuet in G
Musette (from "The Notebook of Anna Magdalana Bach")
Rigoletto (La Donna e Mobile)
Trumpet Voluntary

7. Folk I

Comin' Thru The Rye
Crawdad Song
I Gave My Love A Cherry
I've Been Working On The Railroad
Little Brown Jug
Mary Ann
My Bonnie
My Darling Clementine
Polly-Wolly-Doodle
The Wearing Of The Green
Tom Dooley
Worried Man Blues

8. Folk II

When You and I Were Young, Maggie
Yankee Doodle Dandy
Beautiful Brown Eyes
Rose of Tralee
Down By The Riverside
The Old Spinning Wheel
Jimmy Crack Corn
John Henry
Cluck Old Hen
Shady Grove
Bury Me Beneath the Willow
Oh Where Has My Little Dog Gone

9. Gospel I

How Great Thou Art
I Saw The Light
I'll Fly Away
In The Sweet, By And By
Love Lifted Me
Old Time Religion
Peace In The Valley
Precious Memories
The Old Rugged Cross
What A Friend We Have In Jesus
When The Roll Is Called Up Yonder
Will The Circle Be Unbroken

10. Gospel II

Blessed Be The Name
Do Lord, Remember
I Have Decided To Follow Jesus
I Surrender All
Jesus Calls Us
Nothing But The Blood Of Jesus
O For A Thousand Tongues
On Jordan's Stormy Banks
The Great Speckled Bird
The Solid Rock
'Tis So Sweet To Trust In Jesus
Wondrous Love

11. Hymns I

Amazing Grace
Christ The Lord Is Risen Today
Come Thou Almighty Lord
Crusader's Hymn
Doxology
Faith Of Our Fathers
God Be With You Till We Meet Again
Jesus Loves Me
Lead Kindly Light
Nearer My God To Thee
Rock Of Ages
Were You There

12. Hymns II

Blest Be The Tie
Bringing In The Sheaves
For The Beauty Of The Earth
Just A Closer Walk With Thee
Just As I Am
Ode To Joy
O How I love Jesus
Revive Us Again
Shall We Gather At The River
Sweet Hour Of Prayer
The Church In The Wildwood
When We All Get To Heaven

13. Irish Folk

Be Thou My Vision
Castle Of Dromore, The
Down By The Salley Gardens
Foggy Dew, The
Hewlett
Londonderry Air
Lord Galway's Lament
Lord Inchiquin
Minstrel Boy, The
Planxty Irwin
Road To Lisdoonvarna, The
Star Of The County Down

14. Old Favorites I

Auld Lang Syne
Battle Hymn Of The Republic
Buffalo Gals
Dixie
Down In The Valley
Hail, Hail, The Gang's All Here
Listen To The Mockingbird
Loch Lomond
Michael Row The Boat Ashore
Sweet Betsy From Pike
Swing Low, Sweet Chariot
Wildwood Flower

15. Old Favorites II

A Bicycle Built For Two
Aura Lee
Believe Me If All Those Endearing Young Charms
Drink To Me Only With Thine Eyes
Frankie And Johnny
Home Sweet Home
My Old Kentucky Home
Sidewalks Of New York
Sweet Rosie O'Grady
Tennessee Waltz
The Camptown Races
The Man On The Flying Trapeze

16. Old Favorites III

Arkansas Traveler
Beautiful Heaven
Deep River
For He's A Jolly Good Fellow
Good Night Ladies
In the Evening By The Moonlight
Irish Washerwoman
Juanita
Lazy Mary, Will You Get Up?
Lieber Augustin
Sailor's Hornpipe
Song Of The Volga Boatman

17. Old West

Be Nobody's Darling But Mine
Deep In The Heart Of Texas
Home On The Range
I Ride An Old Paint
Oh, Bury Me Not On The Lone Prairie
Red River Valley
Shenandoah
The Streets Of Laredo
The Yellow Rose Of Texas
Wabash Cannonball
Waiting For A Train
When My Blue Moon Turns To Gold

18. Romance

Annie Laurie
I Love How You Love Me
I Love You Truly
Little Annie Ronney
Long, Long Ago
Loves Old Sweet Song
My Wild Irish Rose
Paper Roses
Vilia
When I Grow Too Old To Dream
Where Is Your Heart
When You Were Sweet Sixteen