---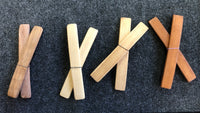 We try to keep online stock as accurate as possible, but some woods may not be available. If the wood you order is out of stock we will contact you to suggest substitutes, or you may add a note in the "special instructions" section if you are flexible on substitutes.
Percussive bones made by Steve Brown, in various domestic and exotic woods. Sold in pairs. Not all woods may be in stock - we will suggest a substitute if needed.

Steve Brown has been making and playing bones since the early 1980s. He has been Executive Director of the Rhythm Bones Society for almost 20 years, and holds two All-Ireland titles. His bones are played by some of the best: Junior Davey, Mel Mercier, Tommy Hayes, James Yoshizawa, and Graham Hargrove.