---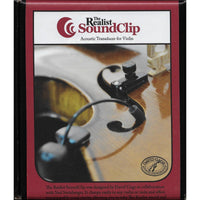 The Realist SoundClip proves you don't have to sacrifice great amplified tone for convenience when selecting a violin pickup. The SoundClip installs and removes safely and easily, with no instrument modification required, guaranteed.
SoundClip installation is a simple two-step process:
Carefully pass the lower part of the pickup clamp through the violin F-hole;
Gently tighten the thumbscrew for a secure fit. You want to ensure full pickup contact with the top of your violin while avoiding rattling and slippage.
To remove the SoundClip, just loosen the thumbscrew and pass it back through the F-hole--it's that simple! This quick and painless installation and removal process makes the SoundClip an ideal pickup solution for orchestral players, violin students and teachers who may own only an acoustic violin that cannot carry a more permanent pickup or be in any way modified.
Free shipping on this item within the continental US!