---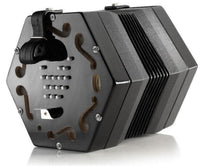 The Jackie concertina is designed and developed by The Concertina Connection, based in Washington state. It's manufactured in China, using partly European parts, and these are quality-checked multiple times by The Concertina Connection before shipping.

This is a great beginning English concertina that is much higher-quality than other Chinese-made concertinas on the market. It features a traditional riveted action, normally only found in expensive handmade instruments. 6-fold bellows, traditional thumb straps, accordion-type steel reeds.
The Jackie is a treble (violin-range) instrument, fully chromatic. Black only, with white plastic buttons. Padded gig bag and tutorial written especially for this instrument are included!
A "Jack" model 30-button baritone range concertina (1 octave below the Jackie) is sometimes available by special order, though availability has been limited.
Shipping in the continental US is $40