---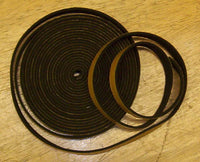 Wide poly foam (approx. 12mm), white or black, strip-away paper covers adhesive on one side. Also available in narrow. Our most popular replacement part - if your accordion is more than about 15 years old, chances are good it could use new gaskets. Made of special high-compression foam, works a lot better and lasts much longer than weatherstripping. Sold by the yard, cut to order.
When narrow width is not available, you can cut this foam in half lengthwise to make narrow strips 1/2 the width. If you are flexible on color, we can also substitute if we don't have enough of one color to fill your order.
Note: due to limitations with our website's shipping calculator, shipping charge for this item is usually calculated between $8-14, but is often a lower cost to continental US destinations. We will adjust your payment amount when we process your order if the actual shipping cost is less.