---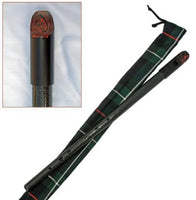 This item is currently located at our booth at the MD Renaissance Festival, which runs through October 22nd. If you are interested in purchasing it at our Takoma Park store or having it shipped to you, please contact us.

The Carbony Low Whistle has a tapered design Carbon fiber body and chimney extenders to give finger spacing equivalent to our Mezzo G. This design has been coupled with a tunable machined anodized aluminum mouthpiece for tonal quality and product longevity with a marbled ebonite tip. Beautiful intonation and appearance. Comes with a lifetime warranty. Soft case included (colors may vary).
This is the Low E model, standard bore. This is a brand new item, but may not include sealed packaging. All unsealed wind instruments are fully sanitized before shipping to a customer. 


If a whistle could have ever been built of ebony this is what it would sound like. The thin wall process of our tapered whistle design gives warm response of the lower octave. When playing with other instruments these notes are rarely heard, but not with Carbony™ composite! Our material resonance enhances lower frequencies and mutes upper register shrillness producing a volume balance in all registers.
All whistles now have our revision four fipple design. Our patented two-piece design enables machining accuracy of 0.001″. Our two piece assembly also facilitates optimal material selection. The blade/body is machined from aluminum and anodized for hardness, creating a stiff precise blade for maximum oscillation. The tip/windway is machined from marbled ebonite, the same material used to make saxophone and clarinet mouthpieces. Safe to put in mouth and durable enough to honor our lifetime warranty. The interface of the whistle is precision ground to mate with the fipple and form a tuning slide required in all professional grade whistles. The Carbony™ tapered design is based on the Copeland tradition.
More information at https://carbony.com