---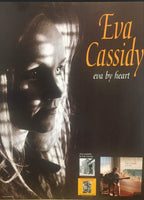 Proceeds from the sale of these posters will be split between Institute of Musical Traditions and Grace Griffith - see below for more info.
When Eva Cassidy died in 1996 at the age of 33 due to an undetected melanoma, the world lost one of the great voices of a generation. Eva was discovered by the Father of GoGo, Chuck Brown. After a break, Chuck was returning to studio A to track some vocals. As he passed by studio B, he froze upon hearing Eva recording some songs. "That's it, that is the voice I've been looking for!"
In 1997, Institute of Musical Traditions produced an Eva tribute concert featuring Grace Griffith, a close friend of Eva's. Blix Street Records, the label that both Eva and Grace had recordings with in their catalog, sent these posters to promote the concert. Each poster will also include an "Eva By Heart" CD - her first solo studio album (3rd overall), released posthumously.
Grace Griffith was diagnosed with Parkinson's Disease not long after the tribute concert, and continues residing in MD (she released her last album in 2014). A split of proceeds from these sales will be donated to both Grace and to Institute of Musical Traditions, a non-profit 501(c)(3) organization (specifically, to pay the artists performing in their free-to-the-public live streaming concerts).
Framed posters are also available - please contact us for more information. The unframed posters ship free within the continental US.