---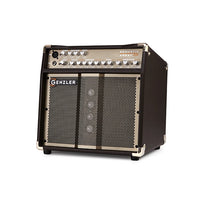 Building upon Genzler's heritage in innovative acoustic amplification design and build, the AA-MINI brings many of the features and performance of our larger AA-PRO into a smaller, more compact acoustic amplifier.  Both models bring a unique and fresh design and performance level to acoustic instrument amplification, from acoustic/electric guitars, mandolin, ukulele, violin, cello or other acoustic instruments.
The AA-MINI offers a full featured preamp design with dedicated Mic and Instrument channels, our unique Contour circuit (Inst Ch), flexible EQ network, Digital Effects, a 100 Watt Class D power amplifier platform, unique angled cabinet shape, and a sophisticated speaker system design.
Specifications
PREAMP –— Dedicated Mic and Instrument Channels.
INST. INPUT

 

—

 

5Meg ohm input impedance.
CHANNEL VOLUME  – Voiced to provide natural, pristine, transparent reproduction of the instrument.
INPUT PHASE SWITCH

 

– reverses the polarity of the instrument input to help control potential feedback.
CONTOUR

 

— continuously variable control of a pre-shaped curve that boosts lows and highs while simultaneously cutting Mids.  The slope is fairly gentle which keeps the tone shaping very musical.  This curve covers a wide range of EQ and offers a quick and simple starting point for EQ adjustments.
ACTIVE EQUALIZATION

 

– The AA-MINI's Instrument channel contains an active 3 band equalizer with a sweepable parametric mid-range frequency control.

Bass    +/- 15dB boost/cut shelving curve with a corner frequency of 75Hz
Mid     +/- 15dB boost/cut of the variable mid frequency selected
Freq.     Variable mid frequency from 200Hz- 5kHz
Treble

 

+/- 15dB boost/cut shelving curve with a corner frequency of 7.5kHz

Digital Effect

 

— The Mic channel has its own REVERB level control and the Instrument channel offers both REVERB and CHORUS controls that provide the user with the most flexibility.  The parameters of each effect are variable at the Master Section with the Reverb Time and Chorus Rate controls.
POWER AMP — The Acoustic Array® MINI uses a state of the art, Class D power amplifier design and a high frequency auto-sensing universal switch-mode power supply (SMPS) to achieve unprecedented high performance in a lightweight package.  For global use, there are no Voltage Switches to change or jumpers to move.  This SMPS senses the line voltage from 100-240 Volts and automatically configures itself.
REAR PANEL
XLR Direct Output –

Global —— Post EQ
Ground Lift Switch

Headphone Output
Aux Input
SPECIFICATIONS:
Power Output: 100 Watts / 4 Ohms
Operating Power condition: 100 – 240V, 50/60 Hz
Dimensions: 14.5"H X 14.5"W  X 12"D  (36.83cm H x  36.83cm W x 30.48cm D)
Weight: 21 LBS  (9.52 Kg) 
SHIPPING DATA:
Dimensions: 18"L x 15.5"D x 19.5"H  (45.72 cm L x 39.37 cm D x 49.53 cm H)
Weight: 27 LBS  (12.24 Kg)
Because we are a small shop, most of our new amp stock is available on the sales floor for customers to demo. This item may not include its original packaging, but is still considered brand new with warranty, from an authorized dealer.