---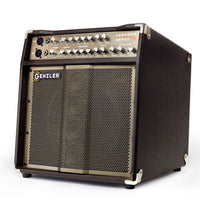 Building upon Genzler's heritage in innovative acoustic amplification design and build, the Acoustic Array™ PRO brings a fresh, advanced approach to acoustic amplification.
The AA-PRO offers a full featured preamp design with 2 identical channels, both with mic and instrument inputs, a unique Contour circuit, flexible EQ network, Digital Effects, a 150 watt / 300 watt Class D power amplifier platform, unique angled cabinet shape, bottom-mounted speaker stand adaptor and a sophisticated speaker system design.
The focal point of this light-weight, compact combo is a speaker design engineered for acoustic instrument reproduction that is based upon our revolutionary Bass Array® format from our bass guitar cabinet designs.     The AA-PRO speaker system features a specialized 10" woofer in a ported chamber along with the performance and pattern control of a proprietary line array column, which is mounted forward of the woofer in the center of the speaker baffle.   This line array column utilizes 4 custom designed 2.5" neodymium paper-cone drivers and no compression tweeter is used in this design.   The use and placement of the line array provides exceptional clarity and ultra-smooth response, along with broad dispersion and projection that line array principals produce.   The 10" woofer produces the depth and roundness of the low frequencies while the mid and high frequencies are produced by the line array and are clear, natural and authentic to the acoustic instrument.
The blend of this innovative speaker system along with our preamp and amplifier platform delivers an acoustic amp like no other available.   Either used as an acoustic instrument amplifier from the stage or a stand-mounted PA, the Acoustic Array™ PRO is a 27 lb versatile package ideal for a variety of uses and venues.
FEATURES:
Two Identical Preamp Channels w/Mic and Instrument Inputs
Phantom Power for Condenser Mics
Signal Phase Reverse Switch
Unique Contour Circuit for Quick Tonal Adjustments
Active EQ w/Sweepable Mids
Adjustable Digital Reverb and Chorus on Each Channel
Innovative Acoustic Array™ Speaker System Design
10" Woofer w/4 x 2.5" Cone-driver Line Array
Slanted Cabinet Design for Improved Projection
Ultra-lightweight 27 lb Compact Cabinet Design
Power Output: 150 W (combo);  300 W with Extension Cab
3 XLR Direct Outputs
Effects Loop
Auxiliary Input
Bottom-mounted Stand Adaptor
Because we are a small shop, most of our new amp stock is available on the sales floor for customers to demo. This item may not include its original packaging, but is still considered brand new with warranty, from an authorized dealer.