---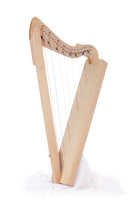 This item is currently located at our booth at the MD Renaissance Festival, which runs through October 22nd. If you are interested in purchasing it at our Takoma Park store or having it shipped to you, please contact us.
Built in the USA - our favorite beginning harp! Natural Maple finish. Other colors are available by special order: black, white, blue, red, pink or purple.
The Sharpsicle™ Harp has levers on C & F strings, making it well suited for Celtic music. It can be played in the keys of C, D, G and the relative minors and it has bridge pins on all the strings so additional levers can be added later if desired. This is a great, budget friendly model to start on. The Sharpsicle™  Harp is incredibly popular with harp and music teachers for use with students.
All Harpsicle® Harps come with a tuning wrench, strap buttons, and a two year warranty.
Weight

6 lbs 

Number of strings

26

Dimensions

36 x 21 x 5 in (92 x 53 x 13 cm)

String type

Monofilament Tempered Nylon
Need a case? Add one here.