---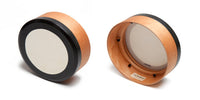 This model is not currently in stock. Next shipment will likely be in late winter/early spring 2024. Please contact us if you'd like to be notified when we restock this model.
The best-selling CoreLine model - an absolute standard! Looking to upgrade from an entry-level bodhran? This is your drum!

This drum includes the HEDbag padded soft case. 
37 x 14 cm; 1660 gr (14.6 x 5.5 inches, 3.66 lbs)
All CoreLine bodhrans feature the following:

Frame construction: Outer frame - Tube-glued beech plywood with fine knife cherry veneer on the outside. Inner frame (tuning system) - Business plywood frame made of beech veneer
"Edlauer Select" premium goatskin
Skin fastening flush with the outer frame (simple, timeless design)
"Taped" for a more harmonious overall sound
Tool-free multi-point tuning system with exposed star handles
Beveled fur edge, universal fur support profile
More information on Hedwitschak Bodhrans
About the CoreLine models:

From the choice of material to the construction of the frame and the finish of the surfaces, all components and details are perfectly balanced. Hedwitschak's core values are attention to detail and great craftsmanship.

These drums use "EdlauerSelect" Premium Goatskin, which is produced and refined exclusively for Hedwitschak drums by a world leading skin manufacturer. The process is carried out in accordance with special specifications, and each skin is purposefully selected for the various CoreLine models.

The multipoint tuning system works smoothly and allows for precise, quick and easy tuning. Thanks to the skillful shaping of the inner part of the tuning rim, the hand nestles naturally into place rendering the drum very comfortable to play.

The high quality of the CoreLine is emphasized by a classy black cherry veneer. With the intricate contours and the flush to the rim skin mounting, the design of the CoreLine bodhrán demonstrates simple elegance and timelessness. The CoreLine was launched 2012 and since then it was refined and optimized permanently.