---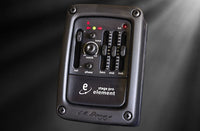 House of Musical Traditions is known for being a home for acoustic instruments. But we also Love making those instruments a bit louder. LR Baggs is a pretty marvelous way to do it. Generally all pickups require professional installation - for more information about pickup installs checkout services available from our head luthier Steve Carmody.
Unlike typical undersaddle acoustic guitar pickups that are dependent on string compression for their sound, the Element was engineered to mirror the soundboard's actual movement as you play. At the heart of the pickup, a flexible film sensor only 2 thousandths of an inch thick picks up the guitar's most delicate nuances. Tracking the motion of the top rather than a direct string attack suppresses "quack" caused by compression and unlocks the Element's unrivaled dynamic range. The pickup's minimalist construction lessens any influence on the acoustic properties and creates an intimate coupling between the pickup and guitar for the highest fidelity possible.
Stagepro Element™
The Stagepro Element is a side-mounted preamp/EQ that offers battery access and a full chromatic tuner that is hidden beneath the control panel to maintain a clean, classy look. The three band EQ with phase inversion and Garrett Null notch filter controls deliver warm, pristine sound even under the most challenging conditions. The system includes the Element pickup and pre-wired strapjack.
FEATURES:
Includes Element pickup
Side mounted preamp/controls
Master volume
Bass, mid & treble control
Notch filter
Phase inversion
Onboard tuner with mute function
9V Battery access drawer
Battery life indicator

Battery life: 100+ hrs