---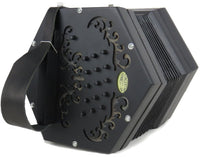 The Rochelle-2 is an upgraded version of the popular Rochelle 30-button Anglo concertina, with a slightly smaller body size, and lacquer finish.

Both Rochelle models are standard C/G anglo concertinas with Wheatstone/ Lachenal layout. Keyboard position, rake (angle of the rows), and button size are standard. They are both hybrid concertinas, which means that the sound is produced by accordion type reeds.

The Standard Rochelle is 7 1/4" across the flats, and 7" side to side, and weighs 2.8 lbs. The reeds are mounted on accordion type angled reed banks, which does not require a calibrated airflow. The Rochelle has a celluloid finish.

The Rochelle-2 measures 6 1/2" across the flats, and 5" wide. It weighs 2.4 lbs. The reeds are mounted on a flat reed pan, which is common on more expensive hybrid concertinas. The airflow in the R-2 is calibrated because of the amplifonic reed position. The R-2 has a lacquer finish.
Includes gig bag, instructional book and 5-year warranty.
Shipping in the continental US is $40