---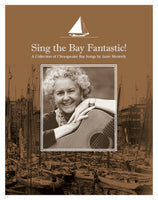 Our good friend Janie Meneely has gathered her many Bay-related songs (40+) into a wire-bound compendium that includes some (very) short stories and poems. Songs range from 
Morning Watch
 (a Crab Alley Favorite) to 
Nasty Nell
 (Paul's Favorite) to 
Father was a Dredgerman
 (so new many of you haven't heard it yet!).
For those of you who might be unfamiliar with Janie's work, the songs are a celebration of the people, places and traditions of the Chesapeake Bay waterfront, presented herewith as a way to spread the word and preserve, at least in song, a way of life that is changing way too fast.
I hope the book serves as a resource for Bay lovers wherever you may be, musicians looking for the words and chords of some of my ditties and folk who are hoping to discover new material to sing. The song are notated, texted and chorded, and where its might be of interest, I've included my sometimes copious notes on the history and background of each tale. The 8½" x 11" wire-bound book will lie flat.