---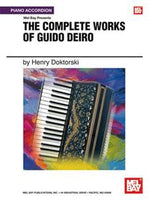 The Complete Works of Guido Deiro
Regular price $ 27.99
This item is currently out of stock. Click here if you'd like us to let you know when The Complete Works of Guido Deiros are back in the House, or simply "Add To Cart" and we'll get you the next one in stock!
Edited by Henri Doktorski
Count Guido Deiro (1886-1950), Italian-born composer and accordion virtuoso. Deiro was a major force in the popularization of the accordion in the early 20th century. Concert accordionist and scholar Henry Doktorski has transcribed and edited all of Deiro's original music for accordion--45 pieces including waltzes, rags, marches, polkas, fox trots, tangos, and popular Deiro favorites: My Florence Waltz, Egypto Fantasia, Sharpshooter's March, and the 1911 Broadway hit, Kismet.
A lengthy essay and rare photos from the Deiro family archive complete the 192-page book.