---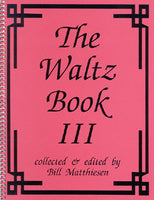 As recommended by our teacher Tom Espinola - Waltz Book III was published in June 2002. Like its predecessors, it contains a mix of traditional and composed tunes. In addition to Scandinavian waltzes, it contains new and traditional tunes from bluegrass, French Canadian, Irish and Shetland tradtions. It also contains a number of Latin waltzes, plus French musette and Breton waltzes.
67 beautiful waltzes, including:
New waltzes from Jay Ungar, Jerry Holland, Peter Ostroushko, Ale Möller, Jacky Molard, Keith Murphy, Larry Unger, Marcel Messervier, Bob Pasquarello, George Wilson, Julie King, Molly Mason, Sarah Bauhan, John Miller, Debbie Scott, Cathi Whitesides and others
Scandinavian melodies including Josefin's Dopvals, Sommervalsen, and Waltz from Järna
French Musette & Breton waltzes including Indifference, La Mangave, Le Retour des Hirondelles, Wals voor Polle, Valsinette and Valse de Pastouriaux
Latin waltzes such as La Partida, Sueño de una Muñequita, San Rafael, and Dolor y Gusto
Cowboy & Bluegrass tunes including Clayhole Waltz, Down Home Waltz, Junior's Waltz and West Texas Waltz
Irish & Shetland waltzes including Kevin Keegan's Tommy Bhetty's, Inisheer, Mr. and Mrs. MacLean of Snaigow, Little Brown Island in the Sea and Morag's
French Canadian tunes such as Hommage à Philippe Bruneau, Valse du Vieux Moulin, Vals-Clog Guillemette and Valse à P.A.