---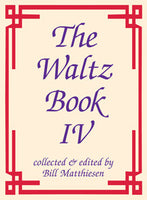 As recommended by our teacher Tom Espinola - Waltz Book IV, published in 2013, was several years in the making. It contains 75 wonderful waltzes, with more newly composed tunes than previous books. The author only intended to include 60-some tunes but had such a hard time narrowing down his long list of suggestions and submissions that he ended up with the longest book yet. This volume shares the same format as previous Waltz Books, with a similar mix of easy and more challenging tunes. 
75 newly composed and traditional waltzes, including:
♦ tunes from the U.S., Ireland, England, Sweden, Finland, France, Brazil and beyond
♦ French Canadian and musette waltzes
♦ swing and bluesy waltzes, even a raggy waltz
♦ tunes from Molly Mason, Keith Murphy, Larry Unger, Jay Ungar, and more
♦ easy tunes and challenging tunes, slow and fast tunes
♦ perfect for evenings of waltzes and other couples dances, as well as waltz jams.