---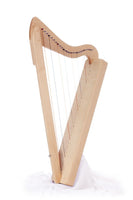 Built in the USA - our favorite beginning harp! Natural maple finish. Other colors are available by special order: black, white, blue, red, pink or purple.

The light weight Harpsicle® is perfect for beginners or the casual harp player. This basic Harpsicle® harp plays primarily in the keys of C and A minor and does not have sharping levers (Sharping levers allow the player to change keys by flipping specific levers). There is a life time of great music written for harp in the key of C and A minor. In fact all of the Harpsicle® Harp music sets  on our website are written to be fun and easy and are in the key of C and A minor.
If needed the Harpsicle® Harp can be retuned to play in a desired key by useing the included tuning wrench to manually retune the harp. This isn't as fast and practical as using levers that are provided on the other harp models. Don't worry beginners, when first learning to play the harp you won't need bother with changing keys.
All Harpsicle® Harps come with a tuning wrench, string chart, strap buttons, and a two year warranty.
Need a case? Add one here.