---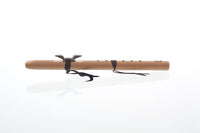 Our First Hawk flute is ideal for beginners because of its sweet voice, affordable price, and smaller size, all of which make it a great flute for first time player to learn with.
This flute's characteristics supports new players with enjoying the process of learning to play while also building the foundational skills needed to play larger and more deep toned flutes.
This flute is tuned to the key of A minor, this flute can also be played in the relative major diatonic scale in the key of C, and it plays beautifully with all of our other flutes in the key of "A". 
The First Hawk is a 6-hole flute but we provide a leather cover for the 3rd hole from the top (known as the 6th hole) to give the option of playing it as a 5-hole flute, which is simpler to play.
It is 17.6-inches (44.45 cm) in length.