---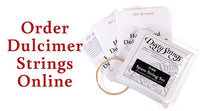 Generally, we do not keep many full string sets in stock, but can special-order them. In some cases it may be more efficient for you to order directly from Dusty Strings, but we'll be glad to advise you if you contact us about your needs.
Full sets contain one of each string used on the hammered dulcimer, allowing you to replace all of your strings at once.
String Charts
All of our string charts are available as PDF downloads. The model and serial number of your instrument can be found on a tag inside one of the soundholes.