---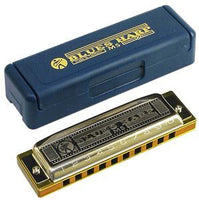 Sale
The Hohner 532 Blues Harp Harmonica helps you dig in deep and experience the raw power and grit of the blues. The Blues Harp is engineered for consistent volume and tone that's ideal for intense blues playing. The Hohner Blues Harp can hang with the toughest harmonica players on their most serious gigs. The Blues Harp is highly bendable and has a dirty, dark, hard rockin' sound. One of Hohner's classic models, the 532 Blues Harp is emphasizes the best qualities of blues harmonica playing. Hohner builds the Blues Harp with a wood comb and thin reeds, allowing for easier note bending. Musicians like Steven Tyler of Aerosmith and Lil' Ronnie Owens of the Grand Dukes have favored the Hohner Blues Harp for its power and bluesy tone.
A traditional blues harp that's specially made for 2nd-position note bending, which gives the blues its signature sound.
Other keys available by special order. Please contact us.
*New Warranty Information! As of December 2015 Hohner offers a new 90-day warranty - within the first 14 days if there is something wrong with the instrument just hand it back to HMT for an instant exchange (assuming its in stock) and betwixt that and 90 days send it to Hohner for free repair!