---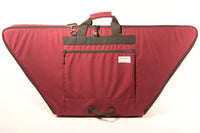 Note: Extra shipping charges may apply, due to the size of the case.
Fits Overture, D45 and PD40
Nicely tailored, close-fitting soft-shell case made of a protective thickness of foam sandwiched between a smooth inner lining and a tough outer covering of waterproofed cordura. Zippered closure, inner compartment for playing leg or folding sit-down stand, large accessory pocket, carrying handles, and shoulder strap of nylon webbing. There is an extra hand hold below the pocket for easier carrying using the shoulder strap.