---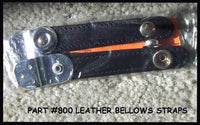 Pair of black leather bellows straps, deluxe double ply heavy duty chrome plated hardware, attaches with 3 screws (not included) through extension at swivel end.
We stock these in the two most popular lengths:
- 7.5cm / 3 inches center-to-center
- 8.5cm / 3 3/8 inches center-to-center (this length was previously the #800L strap).
Lengths of 9.5 and 10.5 cm are available by special order.
For more information on Accordion Repairs at House of Musical Traditions - click here!