---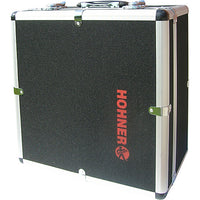 Sale
#10X

fits HA-3000 Erica, HA-2815 Vienna, and 1622 Double Ray

Inside dimensions: 13 inches x 11 inches x 7.5 inches

Durable aluminum frame, black with chrome trim

Red Hohner logo

Black plush interior

Limited lifetime warrant

y through Hohner

We do not generally keep these cases in stock, but can special order them. Time frame for arrival to our shop is generally 10-14 days after you confirm an order with us.
Shipping cost on this item varies widely depending on the destination. Our ordering system skews toward the high end of shipping cost, but we will refund any difference in actual shipping cost when we process your order.