---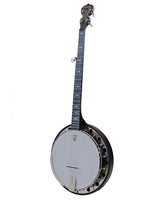 Sale
The Artisan Goodtime Special has the look of an older banjo with the rich brown stain, Deering fiddle shaped peghead and planetary banjo tuners. The Artisan Goodtime Special can be heard with a sweet voice with sustain that compliments all the instruments in a band. Tuned to an open G Chord, with the spikes already installed, you can easily play in other keys.

The stunning new Artisan Goodtime banjos epitomizes Greg Deering's lifelong vision for the Deering Banjo Company – to make the best sounding, best playing, best looking, and best value U.S.A. made banjo that he possibly could. Pearloid vintage artisan style inlays pop off the new Midnight Maple fingerboard, while the peg head is adorned with a beautifully engraved design.
The Artisan Goodtime Special banjo is an achievement in keeping the cost down while providing an instrument that will stay in tune and perform reliably because it is made with precision by skilled American craftsmen. Made efficiently at our factory in Spring Valley (San Diego area of California), this is a comfortably playable banjo with a wonderfully bright tone. It is a solid dependable instrument that is immensely playable with excellent tonality and clarity.
NECK:
Slender Rock Maple Neck Stained a Rich Brown
Vintage Artisan Style Inlays
Midnight Maple Fingerboard
22 Pressed In Nickel Silver Frets
Goodtime Special Logo Engraved On Peghead
Planetary Tuners
Geared 5th String Tuner
Durable Satin Finish
Spikes installed at 7th, 9th, and 10th frets
Deering Fiddle Shaped Peghead
POT:
11" 3-ply Violin Grade Maple Rim Stained Rich Brown
Patented Goodtime Special Tone Ring
Steel Tension Hoop
11″ Frosted Top High Crown Head
5/8″ Maple/Ebony Goodtime Bridge
16 Flat Hooks with 9/32″ Nuts
16 Bracket Shoes with Screw Attachments
Deering Patented Goodtime Tailpiece
Steel Coordinator Rod for Adjustments
Durable Satin Finish
RESONATOR
Maple Resonator Stained Rich Brown
Black Binding
Durable Satin Finish
TONE:
Has a clear and bright sound of maple. Easy to play with clarity of note separation.
TUNED:
G,D,G,B,D in standard G tuning.
Can easily be tuned in other tunings as well.
DIMENSIONS:
Neck Width at the Nut 1 1/4″
Scale Length Nut to Bridge 26 1/4″
Rim Diameter 11″
Resonator Diameter 13 7/8″
Overall Instrument Length 38″
Weight Approx. 8 lbs
WARRANTY:
The trust and pride we share in our product gives us the confidence to grant every owner of a Goodtime banjo a 6 year warranty ensuring the quality of our materials and workmanship.