---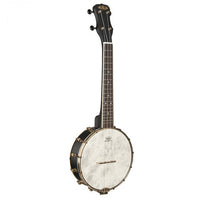 Sale
Kala KA-BNJ-C Concert Banjo Ukulele
Sale price $ 359.00 Regular price $ 459.00
This item is currently out of stock. Click here if you'd like us to let you know when Kala KA-BNJ-C Concert Banjo Ukuleles are back in the House, or simply "Add To Cart" and we'll get you the next one in stock!
The banjo ukulele is recognized for its distinctive tone and ability to project sound in solo and ensemble settings.
The banjo ukulele was originally designed by Alvin Keech in 1917 and was popularized by musicians such as George Formby and Roy Smeck. George Harrison favored the instrument in later years and recorded his song "Any Road" on banjo uke.