---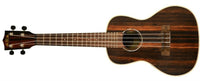 Sale
Kala Ebony Series KA-EBY-C Concert Ukulele
Sale price $ 169.00 Regular price $ 219.00
This item is currently out of stock. Click here if you'd like us to let you know when Kala Ebony Series KA-EBY-C Concert Ukuleles are back in the House, or simply "Add To Cart" and we'll get you the next one in stock!
These Ebony ukes feature light figured, reddish-brown stripes against a deep brown body, all brought together with Maple binding.

Their sound is deep and rich with powerful tones.