---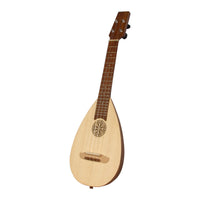 This item is currently located at our booth at the MD Renaissance Festival, which runs through October 22nd. If you are interested in purchasing it at our Takoma Park store or having it shipped to you, please contact us.
The Baroq-ulele by Roosebeck has a design based on the round-back guitar found in Germany.  This Concert-sized instrument is based upon a 375 mm (14.75 inches) scale. It features a European spruce soundboard with a four-point rosette design taken from a 17th century lute. The back is a round-back or bowl shape made of staves of sheesham (Dalbergia sissoo). The neck is solid sheesham and features a nut width of 36 mm (1 7/16 inch) with a cattle-bone nut. This instrument is outfitted with standard friction ukulele tuners. The tension on each friction tuner can be adjusted by tightening or loosening the screw on the top of the tuner. The bridge, also made of sheesham , incorporates a genuine cattle-bone saddle. An end-pin strap button is standard. Overall size: 23.25 x 7.5 w x 4 inches. Made in Pakistan.
Gig bag is included.